Welcome to The Big Cheese & Pub
Pizza, Pasta, and More!
For more than 45 years, the Big Cheese and Pub has set the standard for home-style dining. Our traditions reflect our sincere desire that every customer is completely satisfied every time they visit. We build our reputation one customer at a time, by treating all of our guests as though they had been invited into our home. Whether you order for take-out, or join us in our pub or dining room, you will become part of the Big Cheese family.
Our attention to detail starts every day before the sun comes up, as we begin by preparing fresh pizza dough and breads each morning. We use the finest ingredients we can find to make our authentic sauces, pizza toppings, and meatballs. Our salads are prepared from carefully selected vegetables, then topped with our renowned, award-winning dressing, made from scratch from the same recipe we've used since the beginning.
We are the original - and still the only - Big Cheese and Pub, and we're here seven days a week to welcome and serve you. You will not be disappointed, because our philosophy is that every customer should leave with only one thought - coming back to visit with us again, to spend some more time with family.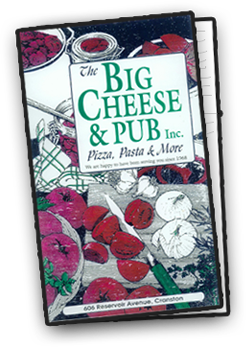 Click to View Our Menu